Pall Products and Technologies – Contaminant Control in Expanding Semiconductor Industry
The leader in purification and filtration technology
Contamination control is one of the most critical concerns in the manufacture of semiconductor devices. Pall Corporation provides filtration, purification and separations solutions for a broad range of fluids, such as chemicals, gas, water, CMP slurries and photoresist.
Pall Products and Technologies provide new, improved and timely filtration capabilities in the semiconductor market for a range of applications. The chemical filtration and purification products that Pall develops and manufactures are the result of decades of experience serving the semiconductor and related industries. Each filter type from a wide selection of materials rates highly on product characteristics and adheres to strict quality control programs. 
Pall offers innovative purification and filtration technologies for new and expanding markets, leading the way with consistent, reliable performance for state-of-the-art cleaning methods and manufacturing processes. Applications in the semiconductor industry include integrated circuits, data storage, flat panel displays, and photovoltaics. Pall filters score high on particle retention, permeability, purity, and robustness. Specifically, they achieve sub-ppb total metal on extractables, low pressure drop, and retention to 5 nm with PTFE.
With demonstrated technical leadership in material science, Pall has produced filters constructed of PTFE, polyarylsulfone, nylon, PVDF, polyethylene, and polysulfone, providing the best selection for each application. A new highly asymmetric polyarylsulfone membrane improves filtration while lowering operational costs. Pall electronics-grade high-purity chemical filters meet stringent quality control programs.
Pall Products and Technologies improve critical chemical processes in the semiconductor industry. 
Filtration Products Compatibility
The compatibility data presented in the following Filtration Products Compatibility Guide is for general reference only. Because so many factors can affect the chemical resistance of a given product, you should pretest under your own operating conditions, observing applicable safety practices such as those given on the Material Safety Data Sheet for each chemical. In addition to consulting the guide for general compatibility information about materials, it is important to reference the individual housing rating for the various categories of fluids. For example, the PP Megaplast™ housing only has a water rating and is not recommended for chemicals. For questions about compatibility for specific applications, please contact Pall Microelectronics.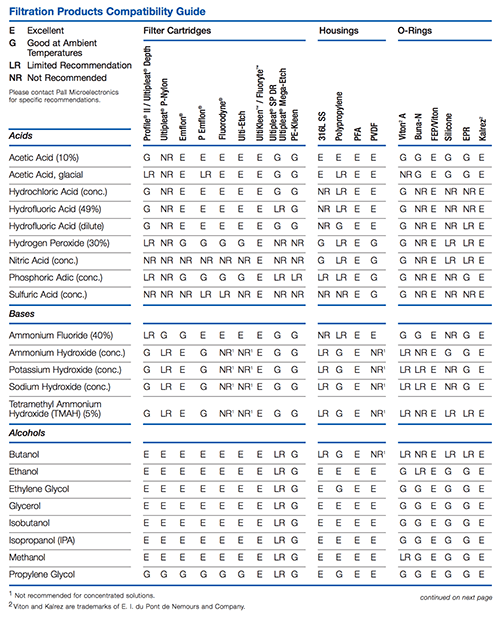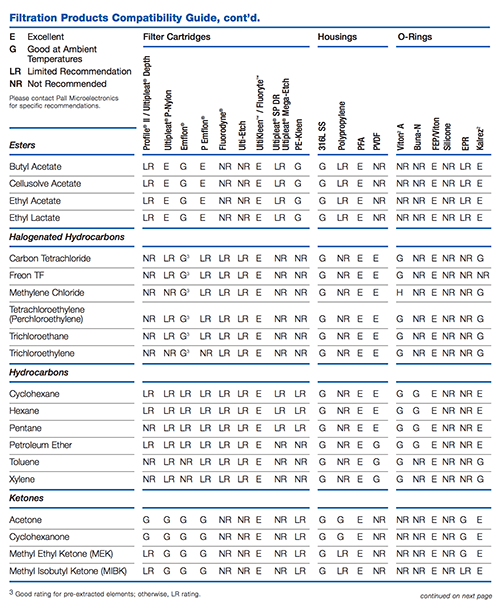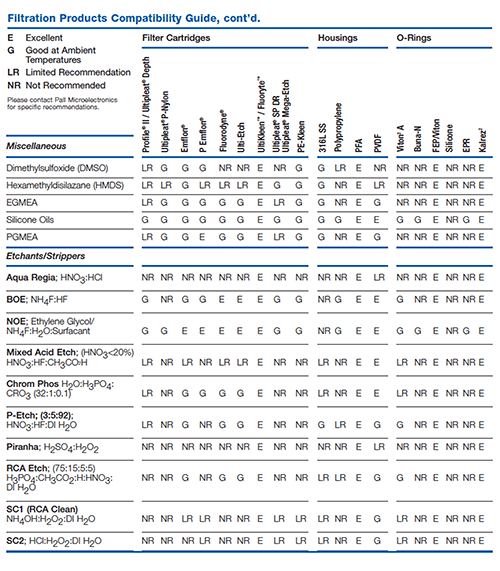 Contact our team of filtration experts for more information on improving the efficiency of your process.

Leading the Industry with product solutions that fit your customers needs
Let's find the right solution, together.
Let's connect. We want to share our innovative filtration solutions with you today. Contact our knowledgeable subject matter experts for information on how we can help. Thank you and we look forward to assisting you shortly.